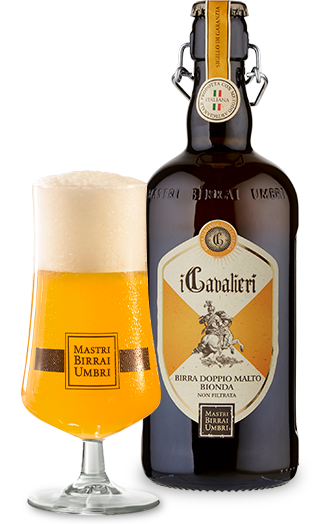 Italian craft
strong ale unfiltered
The Craft Strong Ale by I Cavalieri is a pure barley malt ale inspired by traditional strong ale. To the eye, it has a naturally cloudy, intense yellow colour marked by honey tones and a white head with persistent and medium-grained bubbles. On the nose, the olfactory traits of this special ale are quite distinctive: fresh, herbaceous notes of aromatic hops go hand in hand with the malt, honey, and caramel notes of the special malts used in this recipe. On the palate it reveals the sweet notes of barley malt and caramel, intense, yet balanced by the bitter taste of hops, and hints of ripe fruit from the top fermenting yeasts used, with a persistent and complex aftertaste.
Suggested pairings: hard or soft matured cheeses, aged or smoked cold cuts.
The top fermenting, non-filtration and non-pasteurisation method could create a sediment at the bottom of the bottle, thus we advise keeping in an upright position.